This are the CRAZY numbers Premier League clubs are paying per goal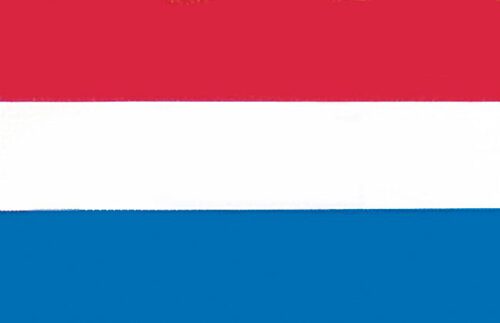 How much do you think a football club is willing to pay for one goal? At first thought, it would depend on which goal. The world's most expensive goals would probably include Teddy Sheringham's 3-2 against Bayern in 1999, and Drogba's equalizer against the Germans in 2012.
In the same vein, Agüero's goal against Queens Park Rangers in 2012 was worth a whole lot more than any other goals he's scored since. And of course, Manchester City is king of the hill when it comes to buying prices and goals – just ask Haaland's accountant.
Price per goal: Premier League
Folks at Manchester City and other clubs alike dream of finding players who turn money into goals. In the end, you need goals to get prizes. More goals increases the chance they come at the right moment, too. So what's the worth per goal? To find out, we've looked at players' salaries and their productivity on the field.
That doesn't bode well for Richarlison, who's scored a single goal for Tottenham – but was paid with the expectation of many more. His goals were so expensive, they turned out to be 6,5x more expensive than Haaland's (even though the Norwegian earns 18% more).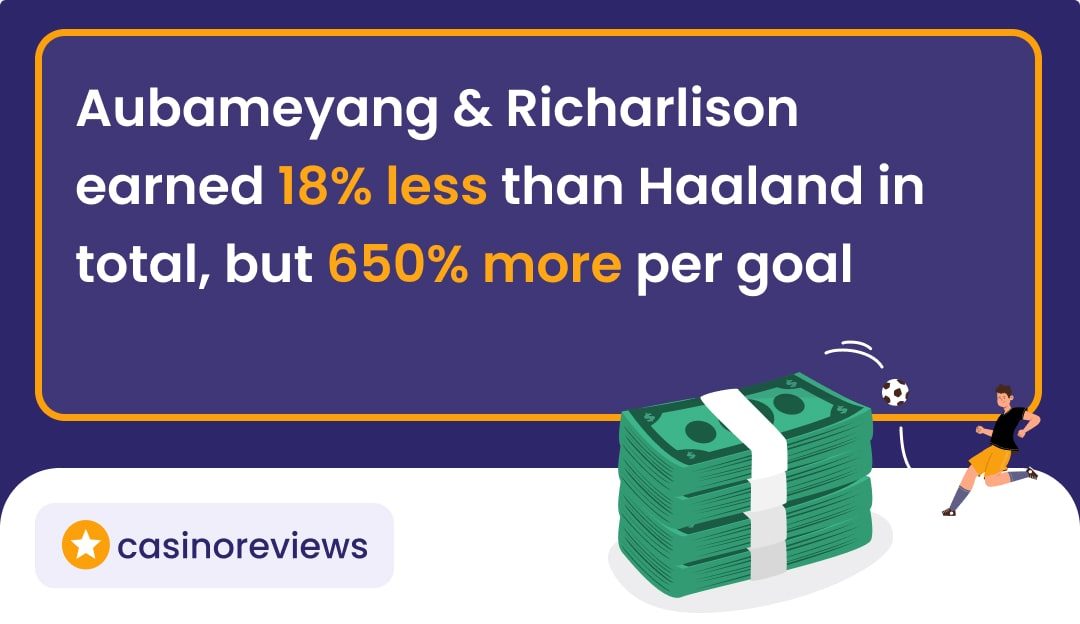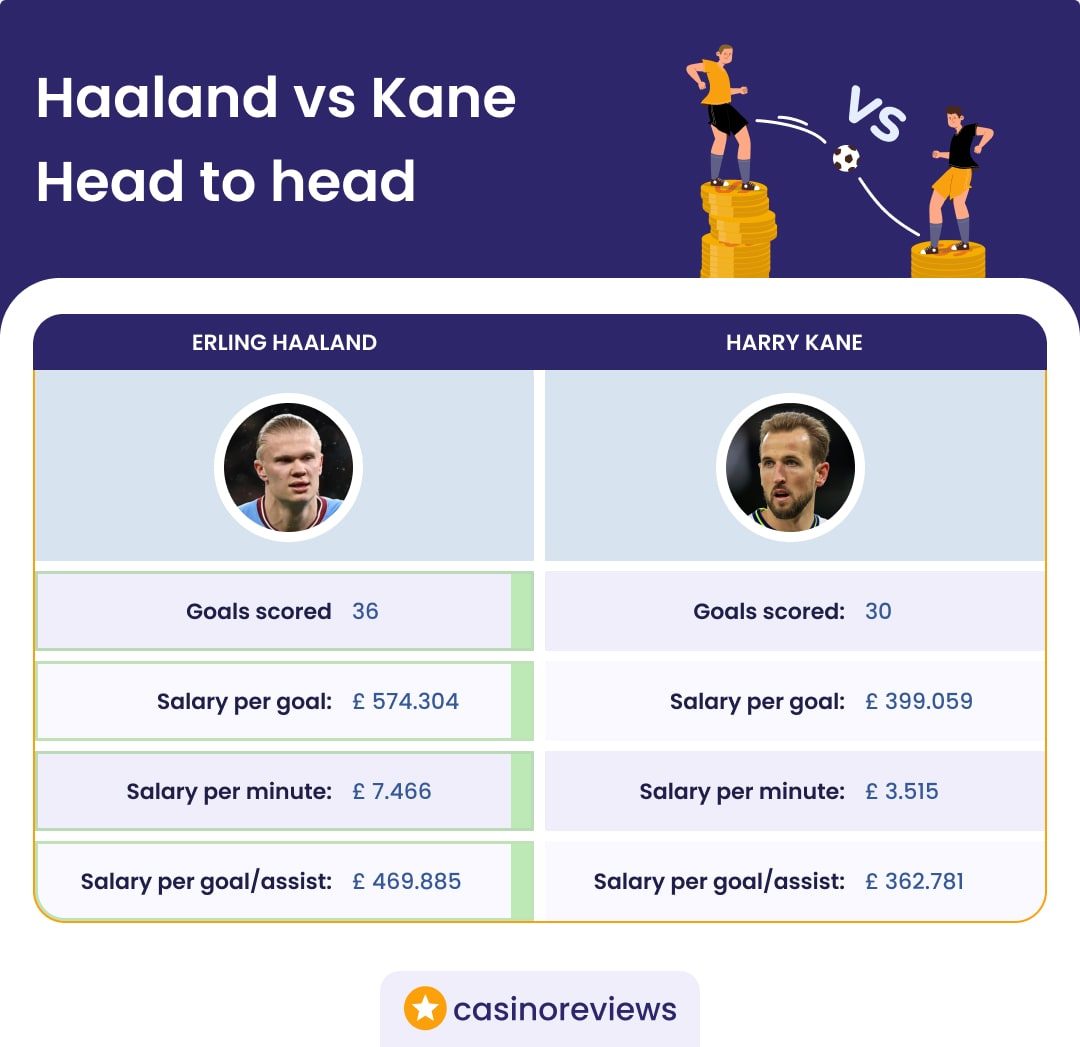 Topscorer face-off: Erling Haaland vs. Harry Kane
Speaking of Haaland, the Norwegian striker ended up as the league's top scorer with a six-goal advantage compared to Harry Kane, who came second. Scoring 20% more goals, there's a risk that the worth per goal decreases, but luckily Haaland gets paid enough to make up the difference. His annual salary of £19.5 million  means each Haaland goal was worth £574,304. Comparatively, Harry Kane's 30 goals in the league were an absolute steal, at a price of £399,059.
Which team pays the most per goal?
The same can't be said for other Tottenham players, with Richarlison as the worst offender. His one goal against Liverpool has cost the club the exorbitant amount of £3,827,823. You can't help but think they expected more for that price – were I paid nearly £ 4 million to write this one article, you'd expect it to be nominated for a Nobel Prize in Literature.
This abominable result is a true team effort, however, because the Brazilian is joined by teammates Kulusevski, Moura, and Son for the top four, with prices of respectively £2,599,139, £2,126,568, and £1,077,461 per goal. If we consider Manchester City king of buying prizes, it seems that Tottenham Hotspur has been the jester of the season.
This contrast is even greater when you compare it to just Haaland. In this top 4, Tottenham paid around 2x to 6x the price of a Haaland goal. Danjuma is the last one in the top 5, but still 'charges' 11% more than Haaland – even though he makes only 14% of his competitor's annual salary.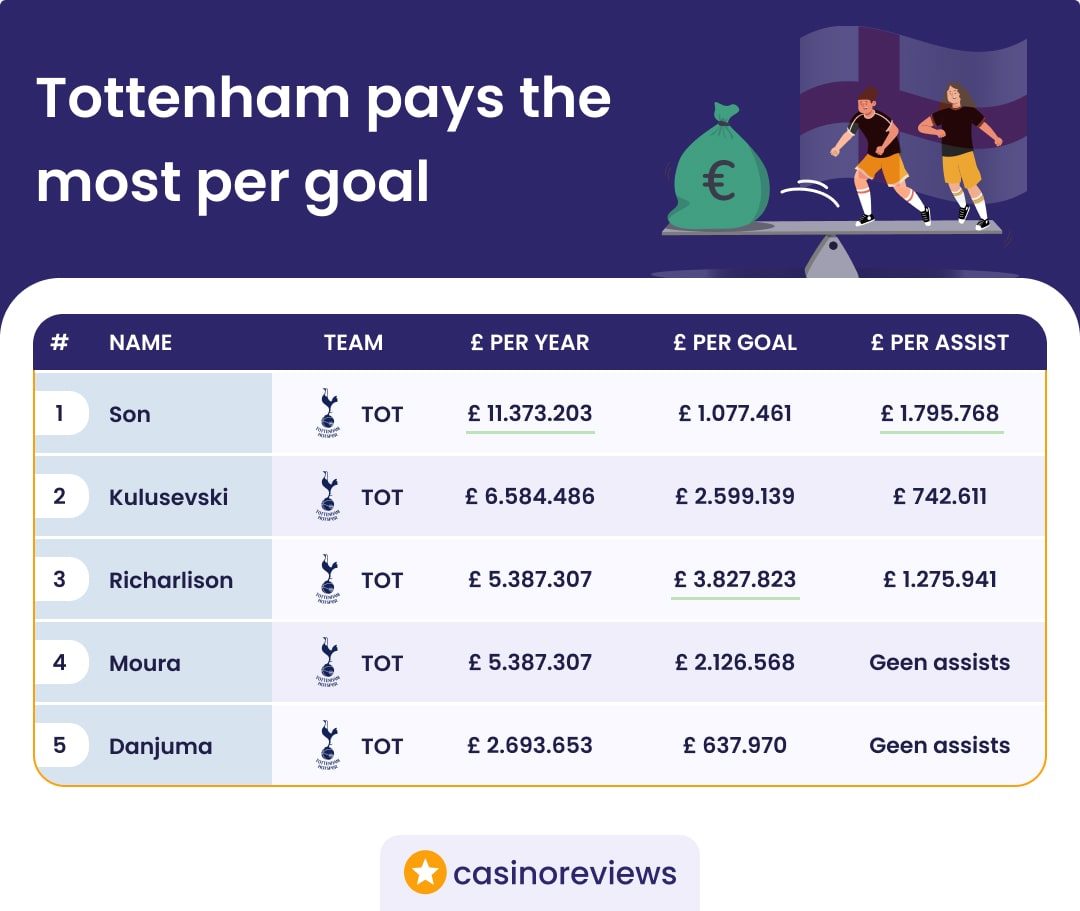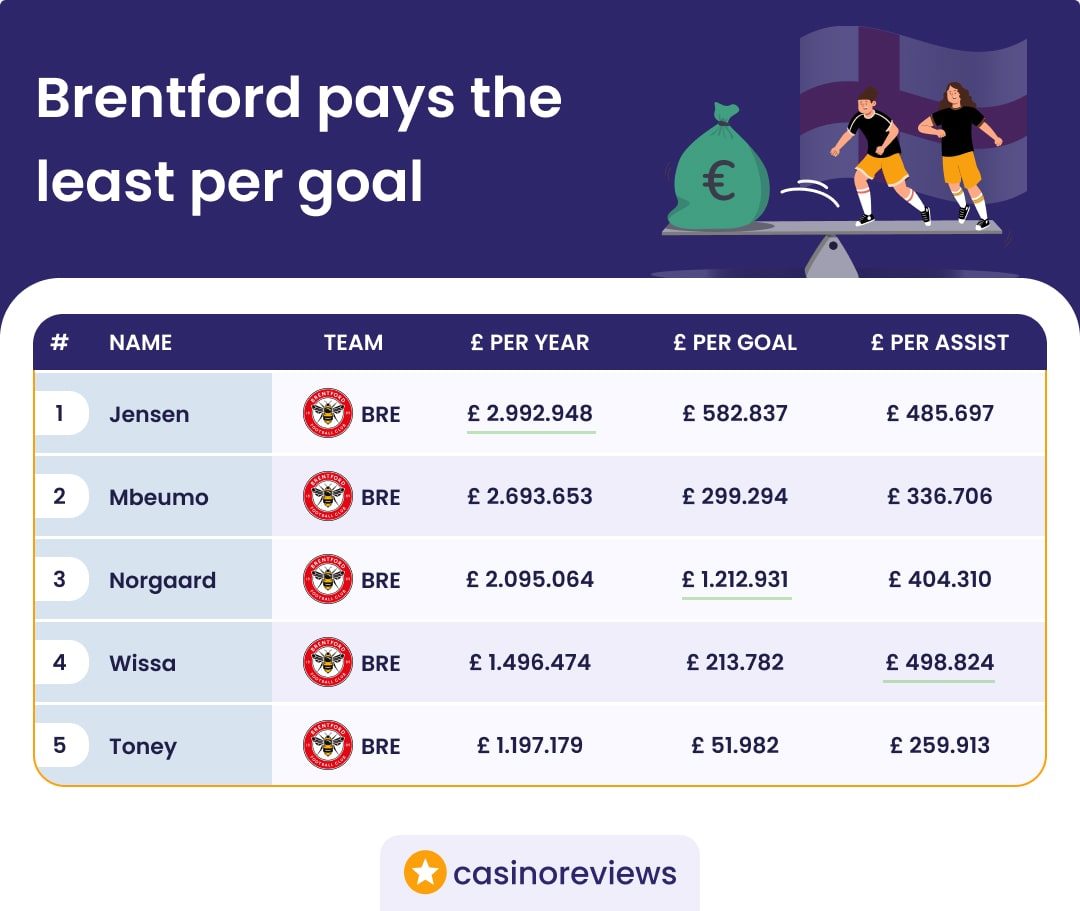 Who pays the least per goal?
The other end of the spectrum is for Brentford. The West-London club doesn't just impress in the rankings this season, they're also paying for their goals at a steep discount. In comparison: Brentford scored the same amount of goals Manchester United did (although the Mancunians distributed them better for third place in the table).
No surprises here, but especially Ivan Toney's goals are remarkably cheap: at just £51,982 per goal, Brentford bought his league goals for less than 10% of what Manchester City paid for Haaland. And although his annual salary isn't quite top of the league, most of us would sign up for £1,197,179 per year.
Men versus Women
You know who else gets paid a lot less than Haaland? Every single female player on the pitch. Arsenal's Beth Mead is the world's best paid female football player (judged by their goal scoring performance) with an annual salary of £1.2 million. Those are numbers that make Kylian Mbappé want to skip training: he earns a million more for every goal he scores. Altogether, Mead makes 1.6% of Mbappé's annual salary.
In reality, the gap between men and women is much greater than that. Taking a closer look at the top five of best-paid female football players, it's clear that Mead is an outlier – someone who earns so much, it skews the entire list. Following Beth Mead is Barcelona's Alexia Putellas, who makes half of Mead's annual salary.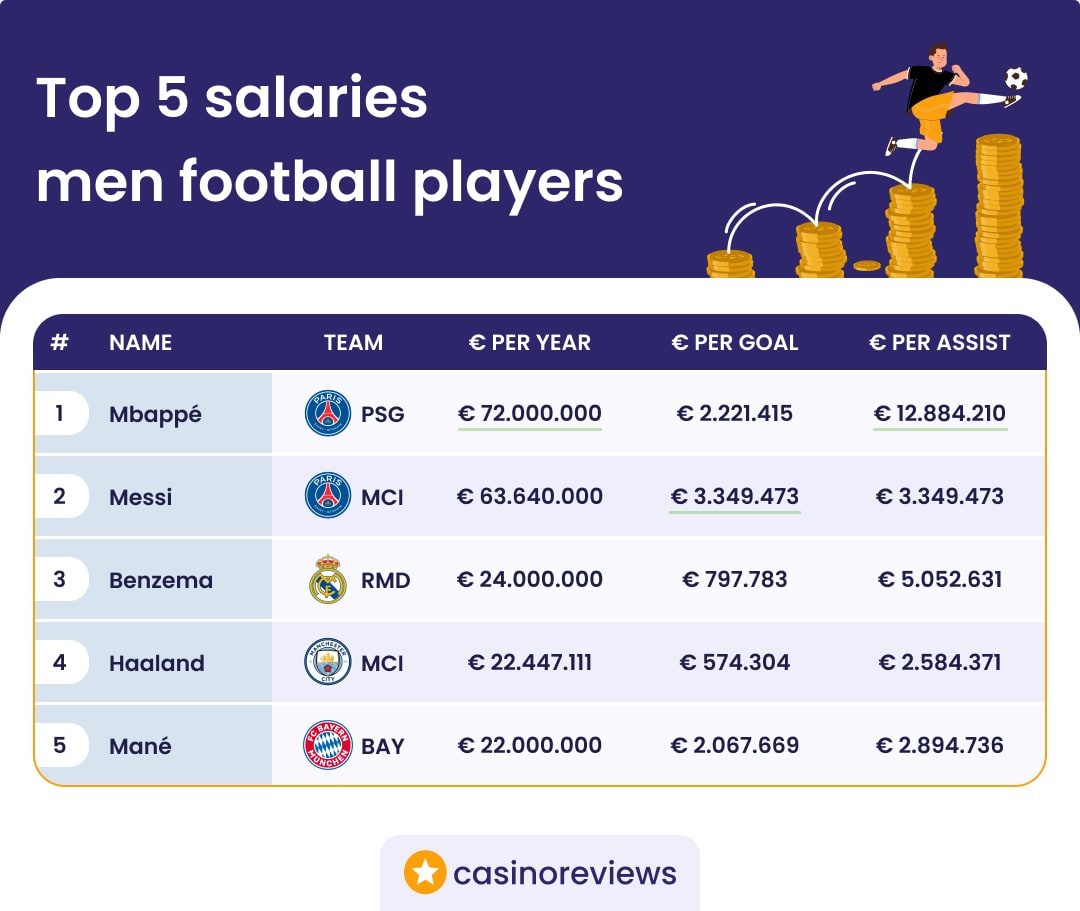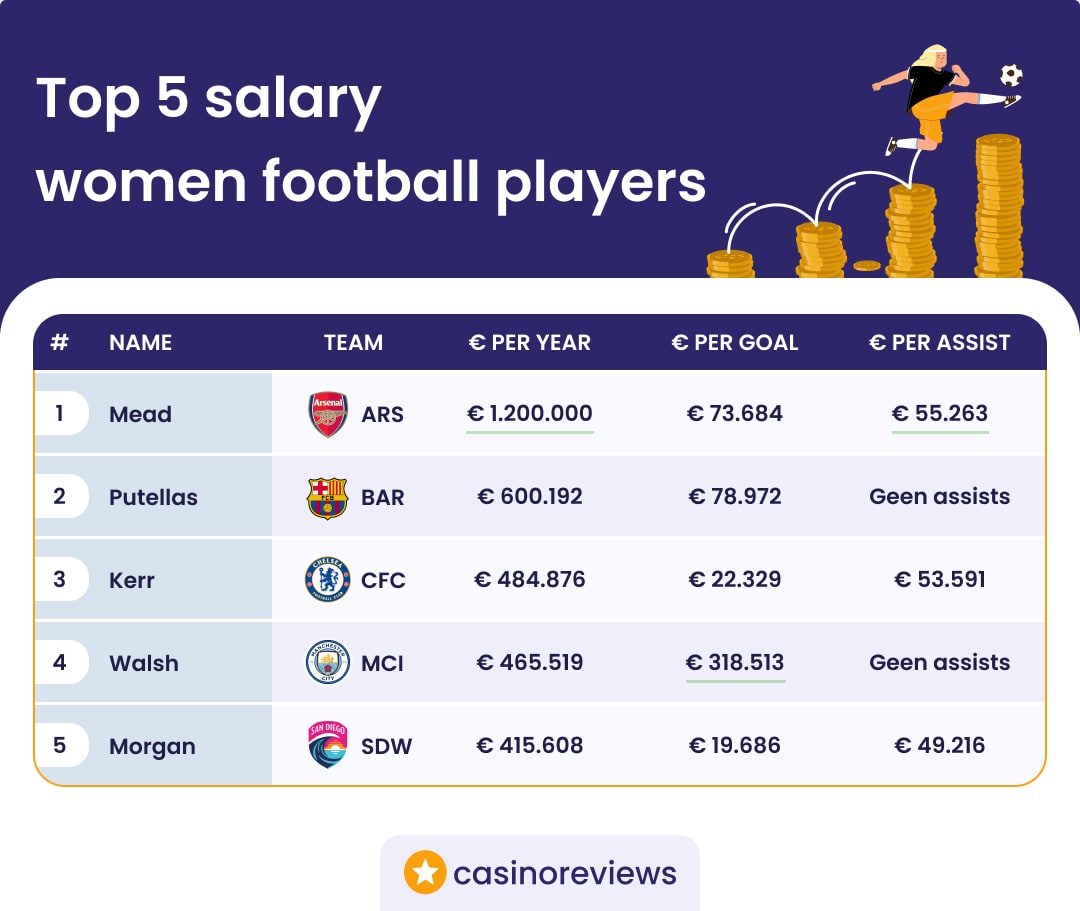 Compare that to the world's second-best paid footballer: a certain Lionel Messi. His annual salary at PSG was € 63.640.000. His female equivalent in the top 5 list made .009% of his salary. Comparing the rest of the list shows that the female numbers three and four make 2% of their male equivalent, and the fifth on the list makes 1.9% of her equivalent.
Methodology
To get to the data in this article, we've combined data from https://fbref.com/ and https://www.capology.com/ (for salary numbers). This led to a set of raw data, from which the salaries of players in scoring positions were matched with their productivity. The top-5 of these lists were used in the article, and served as the raw data for the article. To complete the article, Wikipedia was used to verify match, player, and league data.